Generous Commissions -
Now up to $150 per sale
For each new web hosting customer you refer to HostRocket through our web hosting affiliate program, we'll pay you up to $150. It doesn't matter which package or term your new customer selects, we'll pay you $150 for each successful sale you generate for HostRocket.
Sales 1 through 10 = $75 per sale
Sales 11 through 20 = $95 per sale
Sales 21 through 30 = $115 per sale
Sales 31 or more = $150 per sale
Refer only 1 person a day and make $4,650 a month!
Sign Up Here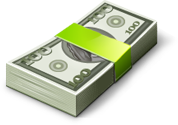 New High Conversion Website -
We Convert Your Traffic To Sales
HostRocket's new website is strategically designed with the order process in mind. From start to finish, your valuable traffic that you direct to our site is being efficiently provided the necessary information to inform the potential customer, and moved through the order process to completion.
2 Tier Commissions -
Make Thousands of Additional Dollars
Know someone who would make a great affiliate? Refer other affiliates to our web hosting affiliate program and earn 10% of any commissions they earn throughout their affiliate career. That's an easy way to do something once and get paid for it multiple times in the future. This is a virtually unlimited opportunity to make thousands of additional dollars.
Monthly Web Hosting Affiliate Program Payouts
Payouts are made to those with balances of $150 or more when you request a payout via emailing affiliates@hostrocket.com.
Enhanced Success
When you are selling a great product or service, your ability to make money is increased. HostRocket provides high-quality web hosting that is not only affordable, but also backed by award-winning customer service. Our service is feature-rich, reliable, and advanced enough to meet the needs of even the most demanding hosting consumer. With our unique promotional incentives, making money as a HostRocket Affiliate really is as easy as sending people to our website. We have some of the best traffic to sales conversion ratios in the industry. All of this adds up to one thing, more opportunity and more money for you, via the HostRocket web hosting affiliate program.
Endless Opportunity
Can you send a high volume of new web hosting customers to HostRocket? If you can, please contact affiliates@hostrocket.com to discuss.
All The Help You Need
HostRocket has a dedicated affiliate program manager, ensuring that any questions, comments, and concerns that you may have will be answered and addressed in a prompt and courteous fashion.
We are not currently accepting any new applications.